Autumn Coles magazine also had a section on gluten free Easter recipes and decided to give this gluten free brownie a try as but different as uses ground up gluten free rice cakes as the base.
120g thick gluten free rice cakes
100g macadamias chopped
125g butter chopped
100g Green & Blacks 70% dark chocolate chopped
1/2 cup pure icing sugar (plus extra for dusting)
1/2 cup cacao sifted
2 free range eggs lightly beaten
3/4 cup milk
fresh raspberries & cream to serve
Preheat oven to 150 degrees celsius and grease and line 20cm square cake pan.
Place rice cakes in TM and grind on speed 9 for 1 minute or until fine crumbs, transfer to a bowl.
Chop macadamias in the TM and add to the bowl, stir to combine.
Place butter, chocolate, icing sugar and cacao in a saucepan and stir on low heat until melted and smooth.
Add to rice mixture and mix to combine.
Add eggs and milk and mix well.
Put into cake pan and smooth the top with a spatula.
Bake for 15 minutes or until just set, cool in the pan.
Dust with icing sugar and slice into fingers.   Serve with raspberries and either cream or ice cream.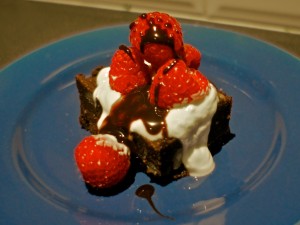 One Comment to