This mousse is divine, so rich and decadent! Best in small serves!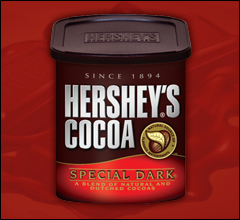 1 envelope of unflavoured gelatine
1/4 cup cold water
1/3 cup boiling water
1 cup castor sugar
2/3 cup Hershey's Special Dark Cocoa
2 cups cold whipping cream
2 tsp vanilla extract
1. Sprinkle gelatine over cold water in small bowl and let stand 2 minutes to soften. Add boiling water, stir until gelatine is completely dissolved. Cool slightly.
2. Combine sugar and cocoa in large bowl, add whipping cream and vanilla. Beat on medium speed of mixer, scraping bottom of bowl occasionally until mixture is stiff. Pour in gelatine mixture, beat until well blended. Spoon into serving dishes.
3. Refrigerate for at least 30 minutes. Garnish as desired. Makes 8 servings.