It is Anzac Day and felt inspired to try and bake some gluten free Anzac biscuits.   I checked out various recipes and consider making some with my supply of Bob's Red Mill Wheat Free Oats from USA.   Oats that are not contaminated are considered gluten free in USA but in Australia they are not considered gluten free, mainly due to contamination issues but also as oats do contain a type of gluten known as Avenin.   I have been eating a moderate amount of Bob's Red Mill Wheat Free Oats for a while now with no ill effects.   Consult with your health professional and read the Coeliac Australia position statement on oats here before you consider consuming them.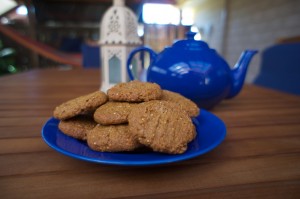 So oats debate over found a recipe for gluten free Anzac Biscuits at Teresa Cutter's The Healthy Chef website here.  I did not have any flaked almonds so added more almond meal.   I also used half cup of coconut and half cup of the World's Best Cereal Porridge with Brown Rice Flakes, Quinoa, Cinnamon and Rapadura Sugar.
150g ground almond meal (in the Thermomix)
1/2 cup shredded coconut
1/2 cup WBC porridge
1/4 cup honey
1/4 cup olive oil
1/2 teaspoon bicarb soda
1 tablespoon water
Combine almond meal, coconut and WBC porridge.
Combine honey and oil in small saucepan and heat gently.
Mix the bicarb and water and pour into saucepan and mix until starts to go frothy.
Pour into the dry ingredients and mix until combined, add a little water if needed.
Form into small balls (about a teaspoon each) and place on baking sheet, flatten with a fork.
Bake in low preheated oven, 120 degrees celsius, for about 30 minutes until golden.
Allow to cool slightly before eating, taste delicious with a cup of tea!