I made the trip up to the gluten free expo on the weekend, did not get to it in 2011.   I was glad I did for the cooking demo by Rose from Balingup alone.   I have eaten many times at the Balingup Bronze Cafe with its 100% gluten free and delicious menu.   Rose is inspirational and for someone who cannot cook she inspires me that I can learn!   I would love a cookbook and recipes with precise amounts but coming to value the need to learn to cook by getting a feel for the texture and consistency required.   So that in mind I came home from the expo and attempted white chocolate and raspberry muffins which were always a must on trips to Balingup.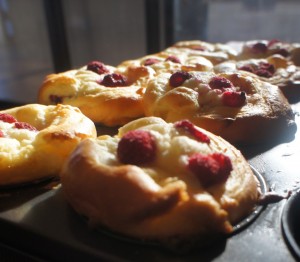 I could not find any Dal (or Dahl?) flour locally so stuck with the Orgran SR Flour mix but you can use a mix of flours and add some GfG (gluten substitute from Orgran) but remember the GF baking powder as I forgot with first batch and they came out flat and rubbery!!!   I added about 2 cups of SR flour, 1/4 cup raw sugar and about half packet of Nestle white chocolate melts.   Then I mixed 1/2 cup of vegetable oil and 2 eggs together and added some greek yoghurt.   I combined the flour mix with egg/oil mix and had thick consistency before adding about 1 cup of milk added last and slowly so does not become to runny a mix.   The after spraying muffin tray with oil added tablespoon as base, added frozen raspberries and then topped with more muffin mix.   Cooked in hot oven (210 degrees celsius) for 10 minutes and then lowered temperature to 180 degrees celsius for the remaining 15 minutes.   Make sure you let the muffins rest and I was not sure cooked completely so turned oven off and left in there bit longer.   Served with a icing made from remaining white chocolate melts and tablespoon of greek yoghurt and some vanilla bean ice cream.   Have stored rest in the fridge and freezer and they freshen and fluff up with 10-20 seconds in the microwave.
So book into one of Rose's upcoming workshops, you will be glad you did and so will your taste buds!
Download the pdf here.