I have tried lots of different gluten free breads and my favourite commercially available bread is from Bodhis Bakehouse. That said the best bread is the one I bake myself using Sunbeam Quantum Smartbake with gluten free cycle. Tastefully Yours sell the breadmaker and all the supplies to make the bread.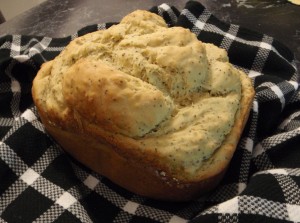 Ingredients
500ml warm water
3 x free range eggs
1/2 cup oil (olive, grapeseed or chia)
1 teaspoon apple cider vinegar
1/2 cup brown rice flour
1/2 cup besan (chick pea) flour
2 cups white rice flour
1 cup arrowroot
3 tablespoons grain (chia, pepitas, sunflower seeds)
1 tablespoon xantham gum
2 tablespoons sugar
1 1/2 teaspoons sea salt
2 teaspoons yeast
Method
1. Place ingredients in bread pan in order listed
2. Place bread pan into breadmaker
3. Choose gluten free cycle, dark crust and 1kg loaf size option
4. Press start
The bread takes about 2.5 hours to bake and smells delicious like any bread baking. It needs some time to cool before slicing but is great fresh. After the first day bread is best toasted or freeze individual slices for later use.